News
A Game Changer - YOUGLOW Gel Nail Wraps
by Sangita V on Sep 28, 2021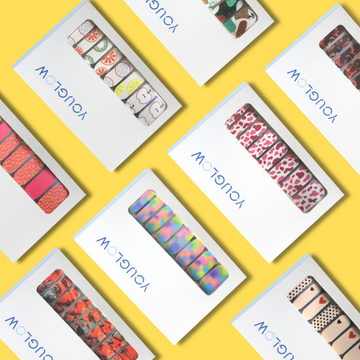 Get professional manicure at home with YOUGLOW nail wraps, easy to apply nail art stickers online
Getting your nails done professionally is nice but at the same time it can be super expensive and time consuming. This is where YOUGLOW nail wraps come in use. You may be wondering what gel nail wraps even are? To put it in simple words - Nail Wraps are solidified Gel Nail Paint in the form of stickers or wraps used to decorate nails in a more easy and cost effective manner. These wraps are also called nail art stickers online and are a wonderful substitute to gel manicure. Unlike gel manicure, YOUGLOW nail wraps requiring no curing, UV, heat or multiple scary tools. These, Nail Wraps come in a variety of designs which you will come across on every trending platform - Classic Solids, Shiny Glitter, Delicate French Tips and Beautiful Abstract Prints. They are super easy to apply and even easier to remove. Best part - they require no practice or patience.
Nail wraps India
A fairly new concept in the Indian market, Nail Wraps have been around for quite sometime now. Our westerner friends have been using these easy gel manicure wraps to save themselves from the torturous long hours of extensions and gel nail art for years. At YOUGLOW, we bring here, Nail Wraps to India for the very first time - making manicures an easy, wholesome and reassuring experience for anyone, anywhere. Nail wraps, are extremely easy to use to get the perfect manicure of your dreams at the comfort of wherever you are. They are toxin free, cruelty free, require zero drying time, 100% real gel manicure and absolutely easy and fun to apply. All it requires is for you to prepare (cut, file, clean) your nails, peel the stickers, apply on nails and file excess off. And you're done! They are the easiest way to get, instant nails online.
Manicure at home with trendy nail art stickers online from YOUGLOW 
YOUGLOW nails are affordable, in-trend and easy-to apply & remove. They are the quickest way to get a perfect manicure at home. YOUGLOW is a self-care nail and hand brand dedicated to elevating the experience of manicure at home experience and making nail art more accessible with trendy nail art stickers online. Try them today and forget the long tiring waiting and drying hours that come with traditional nail polishes and gel acrylics.